By the following autumn term we were seriously considering removing Joanna from the school. We visited a local primary school. I remember sitting in the headmaster's office and Joanna mentioning the fighting in the playground that went on at the Waldorf School. The headmaster looked quite shocked. It was not at all what he had heard about Waldorf schools.
We liked this school and were on the point of moving Joanna there when a new child arrived at the Waldorf School. This new girl really took to Joanna and Joanna liked her. It seemed like a sign that she should stay. Maybe it was, as I had a great deal more to learn.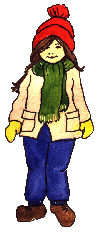 At this time we had begun to have some problems with our younger son. He was five and still in Kindergarten and had begun to soil himself. The psychiatrist was of the opinion that this was further evidence of our inability to parent our children We felt that the stress on the family caused by Joanna's problems were largely to blame.
The school was of the opinion that we had simply not bothered to toilet train him! This was ridiculous as he had been toilet trained and then began to soil again. The kindergarten teacher had had a long talk with us the previous term and seemed very understanding, although she still felt the problem lay with us.
Later that term there was a meeting with the school, social services, the educational welfare officer and the psychiatrist which we were not allowed to attend. In fact we only found out because the new girl's mother, who had become a good friend, and who was covering for the class teacher, thought we already knew.
What we didn't find out until two years later was that the school had reported us for suspected abuse, siting Richard's precocious use of sexual language in kindergarten, his soiling, Joanna's school phobia and Tom's chronic headaches.
Richard's precocious use of sexual language was laughable. He had asked me one evening what 'gay' meant and I had told him that it was when two people of the same sex fell in love with each other. He had then stated in Kindergarten that he knew what 'gay' meant and repeated what I had said. I remember this being brought up in a class meeting as totally inappropriate knowledge for a Kindergarten child.